It is a country that is proud of its many global accomplishments. Many would have encountered something made in or originating from South Korea at least once in their lives. According to a presentation by Nathan Millard, CEO of G3 Partners, South Korea has a 83 percent smartphone penetration rate, one of the world's highest, an estimated $23.6b ecommerce market and a high $31.7k GDP per capita.
In the last few years, you would likely have held a Samsung Galaxy Smartphone or watched TV on a Samsung SmartTV. You could have rode in a Hyundai or SsangYong vehicle before. Perhaps you have listened and danced to Psy's "Gangnam style" or to the many other Kpop groups that got you swinging, or shopped online at their global ecommerce marketplaces like Qoo10. Hell, you could have even shed tears watching "Descendants of the Sun" or another top South Korean drama.
The South Korean economy attributes its success to the chaebols (Korean conglomerates),which were no doubt effective in driving the South Korean economy in the 1960s-1990s. But since the Asian financial crisis in 1997, only 19 of the 30 largest chaebolsremain. Did this lead to the beginning of a new startup ecosystem, where rising entrepreneurs helped fill the gap in driving economic growth for the country? I asked a few local startups operating in the market for their insights.
Market opportunities
Education is everything (and programming too!)
According to Wikipedia, "Higher education is an overwhelmingly serious matter, where it is viewed as one of the fundamental values of South Korean life… Graduating from a top university is the ultimate marker of high status, future socio-economic status, marriage prospects. The pressure to succeed academically is deeply ingrained in South Korean children from an early age."
A serious matter indeed. South Koreans spend an average $6k-$9k per child annually on education alone, or 16 percent of total public expenditure in 2011. There are just under 100,000 hagwons ('cram schools') with 75 percent of South Korean children attending them. The curriculum is also expanding to cover more fields, and programming is set to become part of the elementary school curriculum in 2019.
Seeing opportunity in this, Asaph Kim co-founded 3.14 Co Ltd. The Chief Design Officer and his co-founder came together in 2014 to build Kamibot.
He elaborates on his invention, "Kamibot is a programmable robot that kids can learn to code with. They get to make paper character skins for and customize their robots while learning how to program. I think what's interesting is that 68.8 percent of kids in Korea are in some sort of extra-curricular study program/academy. Most kids over here hang out with their friends at their respective academies. Parents in Korea spend about $210 on each child per month so that they can learn some other stuff outside of school. In my opinion, this is a vertical that is very strongly influenced by parents."
There's a need for localization
Daniel Chan, CEO and founder of Toss Lab, describes the need for localization for productivity tools in Asia.
He explains, "In most western countries, SaaS apps like Dropbox, Evernote, and JIRA are popular and widely accepted. But in Asia, they are less adopted. These international software providers developed their products with Western markets in mind, rightfully so, but left Asian local users searching for tools more appropriate to themselves.
As a result, employees here have turned to localized consumer services, which are not particularly well-suited for enterprise use. That only added to the inefficiency and fragmentation of communication channels at work."
To this end, Toss Lab created JANDI, an enterprise messaging platform with fully built-in workflow management features made for tech-enabled businesses in Asia. In just two years, JANDI has established itself as the local leader in the space, delivering value to customers in areas ranging from IT and media (YelloMobile, JTBC) to ecommerce (Ticketmonster, TOMS Shoes). And investors believe in Toss Lab, backing the company with a funding of $4.5million to date.
Daniel concludes his point, "With over 90 percent of Asian employees already using Kakao, LINE, and WeChat for work, using JANDI is no longer a choice – employees and employers alike are asking for a tool like ours that is easy to use and makes their lives more efficient."
IoT is trending 
John Kwon, CEO of Idolink, shares his excitement about the IoT scene in South Korea. He observes, "IoT businesses are trending in Korea, in terms of B2B as well as B2C. This suggests that Korea is among the most wired countries, with incredible IT infrastructure."
He sees opportunities here. His company provides network and hardware related services for IoT infraware projects, such as U-Eco City, which provides public information and services, and Smart Home System, which provides smart home solutions.
He prides Idolink on developing unique IoT technologies.
"We developed UWB RTLS (Ultra Wide Band Real-Time Location System), a location tracking system based on Ultra Wide Band technology that is superbly accurate and precise," he said. "It has low power consumption, and is very cost effective. It is a real-time geolocation hence the suffix RTLS.
Secondly, in the area of IoT networks, we developed a LPWA (Low Power Wide Area) network solution in Korea. The LPWA technology uses low power for wide distance communication, and it improved battery usage, which has hindered the progress of IoT service expansion. With this technology, we can commercialize IoT by using it in remote gas-metering service, wearable devices for the disadvantaged, and other products with SK Telecom in Korea."
Independent creative talent pool
"Seoul is an incredibly pixel-dense megacity, with digital displays everywhere you look. This is due to the abundance of talented video design industry talent in the city, making Seoul a perfect home base for Shakr," comments David Lee, CEO of Shakr Media Co. Ltd.
Tapping into the South Korean talent pool, his company Shakr is an online video marker for SMBs and marketers to create amazing looking videos for a fraction of the cost of hiring a video production companies. According to David, this "enables smaller brands to create videos on par with the big guys they're competing with, as well as unlocking the ability to do video A/B testing on their website and online ad campaigns."
He believes that the mindset is changing as the number of creative talents grow in South Korea. "We're seeing a massive paradigm shift in Seoul," he said, "where systematic and rigorous preparation for employment in conglomerates is no longer the North Star for young people and the parents who steer their education. A healthy streak of independent thinking and meaningful creative pursuit is becoming the dominant characteristic of Korea's young adults. It's an exciting time to be based in Seoul while building a startup that creates value, with abundant opportunity to hire talented, energetic team members with solid STEM fundamentals in Korea."
Working with Chaebols a lengthy process
"To do any sort of business with the 'traditional' corporates (chaebol) in Korea often requires a lengthy validation process," according to Sun Ung Lee, chairman and founder of Cloudike. Cloudike is a customer-branded, fully integrated Personal Cloud Storage service for mobile operators.
He explains, "In our experience with chaebols, we needed to have a contract with one of their subsidiaries where you're vetted for everything from company revenue, team size, and tech among other things. This vetting is probably the biggest hurdle for startups looking to operate in a B2B business in Korea.
For us, we were able to quicken the process thanks to recognition from a news segment and a seminar I headed. I met one of their representatives who suggested we collaborate. While we were still subject to the vetting process, the chaebol waived the requirements, thanks to my existing relationship with the rep. We're currently waiting to see how things go, but overall, I think doing business with chaebols as a startup is a very challenging endeavour.
However, we found that doing business with one of the newer software giants is much easier. We weren't subject to an intensive vetting process, and our tech, was easily accepted without hassle.
This is one of the signs that times are changing. The newer software company was much easier to work with given that the process was much more streamlined."
The startup ecosystem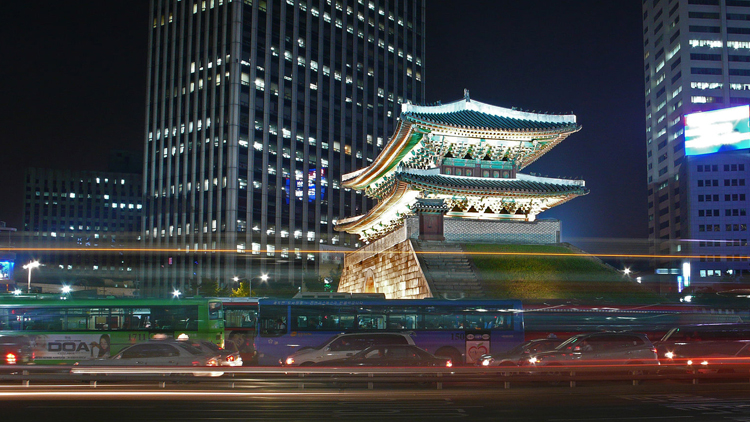 Deep-seated cultural aversion to risk
While David may believe mindsets are changing in the design industry, Daniel Chan finds that Koreans still have a deep-seated cultural aversion to risk. Nathan Millard's presentationattributed this as the "Ajumma factor", where the maternal advice to young adults is, "Get a nice job in Samsung and a good wife, son."
Daniel Chan elaborates further, "Talent is difficult to recruit as everybody dreams only of Samsung and LG, and social pressure from friends, family, and significant others further prevent them from walking a more (fulfilling) entrepreneurial path.
Investors are more accustomed to simple consumer businesses, and rarely dare to take a stance on enterprise (until it's too late), afraid that they may end up looking like idiots. And even customers who realize the severity of issues at work hesitate to push for change. It's a self-fulfilling prophecy where talent, capital, and customers are trapped in the hands of those most capable of and socially responsible for driving innovation, but refuse to do so."
The impatience of Korean entrepreneurs
Asaph Kim notes the impatience of Koreans. He says, "Koreans are very impatient, and our fast internet speeds adds to the haste. They have this mentality of getting it out there quick, which can often lead to further problems down the line. It's kind of like sprinting while juggling, shit is bound to fall apart."
He cites his own example of being impatient that cost him. "I cringe every time I think about our first failed attempt at crowdfunding on Indiegogo. We knew going in that we probably won't go viral, and we definitely should gather emails and grow an audience. But time is limited, and quick results are needed if you want to be funded by the government."
Strength in numbers changing the ecosystem
Daniel Chan agrees that things are changing as Korea's startup ecosystem is growing rapidly, and has the potential to become the pan-Asian hub for tech services. He observes that entrepreneurs tend to band together, well understanding the sacrifices required of each other in similar positions, and therefore form close-knit communities that are very willing to help each other.
Strong support for the ecosystem
Large amounts of resources from the government and corporates go into supporting this band of entrepreneurs. According to reports by Seoulspace and G3 Partners, Korea has built a fast growing ecosystem that is well backed by 20 well-established accelerators, 40 high level Korean investors, over 14 government related agencies, 1,000 angels and many startup events to entice the budding entrepreneurs.
Asaph Kim is one of those who has benefited from this ecosystem.
"We went through SVIK (Smart Venture Institute) in Daegu. This was very helpful for us, since they offer an office space, mentoring, and endless resources. The help we got from them was invaluable.
We were also the second batch in an innovation center in Daegu called C-Lab (Creative Lab) by Samsung. C-Lab is one of the government-sponsored centers backed by a large Korean corporation that cooperates with them.
We briefly participated in a government program called Startup Engine that got startups groomed for accelerators overseas, such as 500 Startups, Hax, China Accelerator, etc. I've also heard of Maru180 being a great coworking space for startups.
KOTRA (Korea Trade-Investment Promotion Agency) is also a group that is very helpful to those just starting up. For example, they can help you find an office space in South Korea. If you're a startup in South Korea looking to expand to the US, they will definitely be able to help you out."
Government grants are plentiful, but a pain to accept
Sun Ung mentions, "Cloudike has received plenty of government assistance throughout the years through various programs designed to help startups. Whether it's looking for foreign partners or mentors, or even exhibiting at foreign events to attract investors and consumers, there's very little the Korean government can't assist you with. The assistance we receive is often a point of envy from our colleagues out in Russia (laughs)."
However, Sun Ung also highlights that applying for government funds takes an incredible amount of time and manpower, given that the process often requires a full-time staff member dedicated to the application.
This sentiment is echoed by David where "an abundance of seed funding seems to be a defining characteristic of the Korean ecosystem, coupled with the temptation to take on generous government subsidies and grants." His company, Shakr, has avoided accepting government support as the strict compliance will quickly become an administrative burden.
Advice to startups
To end off this article, I asked them for their advice to fellow entrepreneurs.
John Kwon notes that technology isn't everything. "Of course technology is important," he said, "but it is also important to consider how one will find a market for sales and marketing. Moreover, it is easier to acquire references by product demonstration, compared to direct sales. It is important to utilize this to leverage one's business."
Daniel Chan highlights courage. "Don't be afraid of taking calculated risks. The market doesn't wait – your customers, competitors, and colleagues do not wait. If you hesitate to act or act too slowly, the outcome will be decided for you, and that will be for you to own."
Asaph Kim feels that "repeated experience can only make you better. Learn as much as you can first time around, so that if it doesn't pan out, you can do it again, but better."
David Lee talks about energy and excitement. "Keep an open mind when it comes to the way you view Korea, because things change fast here. There's a tremendous appetite for improvement."
Special thanks to South Korean-based Sejung Yun, a fellow TIA community member for his introductions and interviews with the startups.
[Update] Insights given by Shakr Media should be attributed to David Lee, not Anton Eliasson. 
This article is the eight of the 'Through local eyes' Series, where local startups give their take on Asian startup ecosystems.
This article first appeared on Tech in Asia.