"Don't let that lady next to you fool you. She is one powerful tiger," quipped my associate. We were at the recent IIPL Chinese New Year celebration dinner and were about to do the traditional tossing of yusheng. As I turned, I saw Shirley Wong, an immaculately dressed and glamourous lady, befitting a person who shows that she has achieved much, but yet was approachable and had no airs about her. I politely introduced myself and did the usual namecard exchange.
"Managing Partner of TNF Ventures," I said, as I read her namecard, and flipped over to the other side, "and Chairman of SiTF." My associate had to rub it in and gave a cheeky smirk, "And Board of Director for iDA, Singapore Science Center and…" But he stopped short with a stern glare from her, and politely walked away.
Breaking that awkward moment, I asked, "Ms Wong, your involvement in these institutions are not your usual everyday roles. May I ask why do you take up such responsibilities?" And, for the next fifteen minutes, I was captivated as she gave me a synopsis of her life story.
I was so intrigued that I knew I could not let this opportunity to share her story slip by. So I persisted, "I am covering an article series called 'Engineering in Singapore' on Tech in Asia. I have been looking for a person to highlight and inspire others that engineering is a great profession. Please allow me to share this story." She was highly reluctant initially, but finally relented and agreed for me to write her story.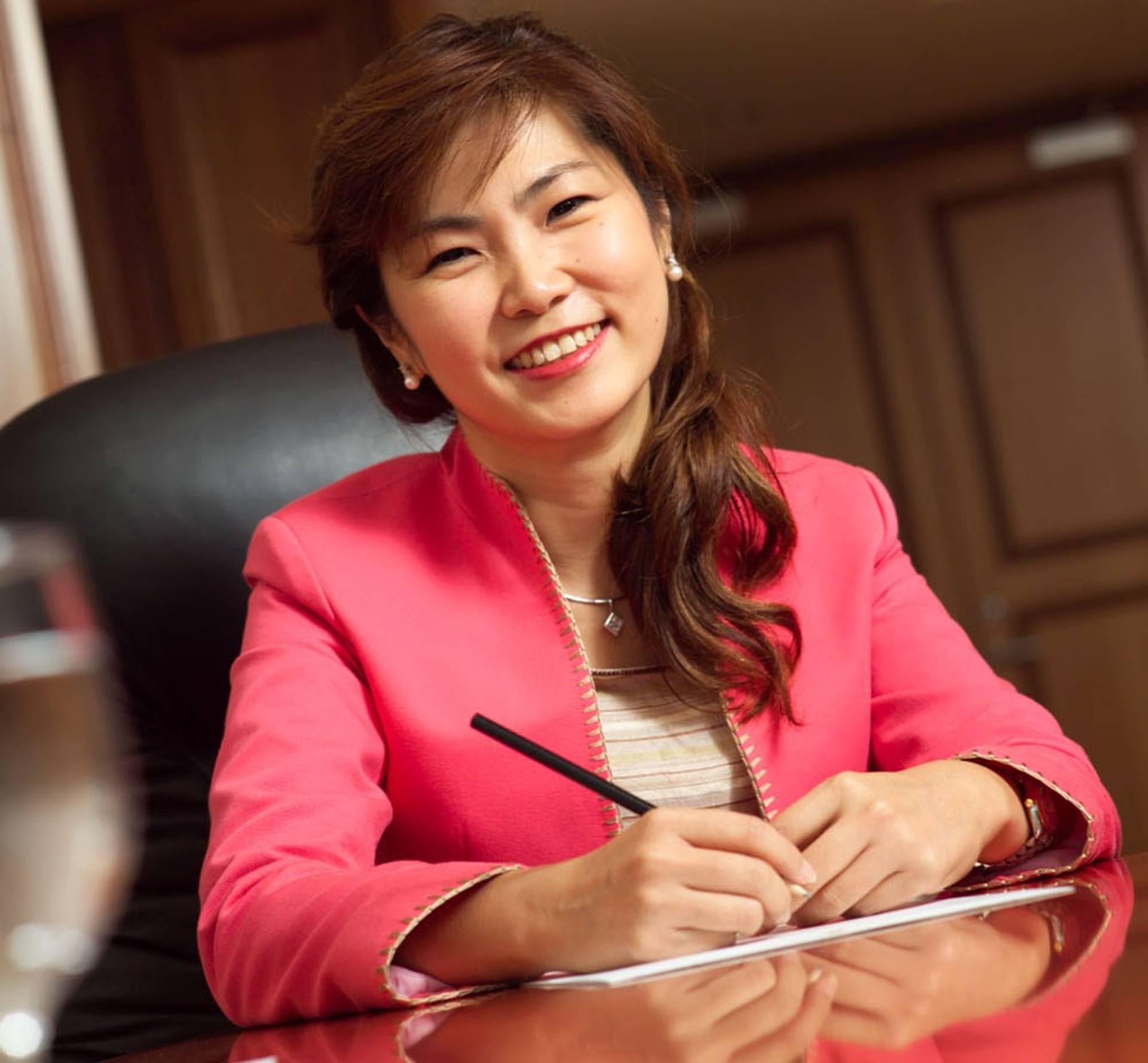 An education path that was not her choice
Shirley Wong, a successful lady of many titles, and with over twenty years of experience in the IT industry, has much to celebrate with regards to her achievements.
In spite of her success, Shirley is not a university graduate. In fact, she had a rocky start academically. She was denied entry into Junior Colleges and Polytechnics as she did not pass her English exams, a main criteria for acceptance. This was despite her good grades in Mathematics and Science.
"The academic pathways during my era were so narrow. But fortunately, I was accepted into the Japan-Singapore Technical Institute (now defunct), an institutional apprenticeship training in Electrical Engineering. I soon realized I chose the wrong course, as part of the training was in the workshop, focusing on heavy duty practical activities such as electrical plumbing, which was not what I intended to learn," she explained. But with a glint in her eyes, she continued "however, it was all not too bad as there were only three females in the class and I was fortunate to receive a lot of assistance from my male classmates."
She felt frustrated and was conflicted by her choice of study. "I felt that I had chosen the wrong subject and was concerned about my employment opportunities and job prospects. I was wondering who would to hire a female electrician, as I presumed that most employers would prefer to hire male technicians. But when I was hired by Chartered Electronics Industries (CEI), all my fears were proven futile, and they gave me the opportunity to explore a new field."
The coincidental path to being a CAD/CAM engineer
At her first employment at CEI, she was tasked to find out how to use the CAD/CAM software for electronics design.
Shirley recalls her time there. "It was the most interesting assignment for me, as it brought out the best in me. I am a self-starter and always on a look out for an efficient way to work.
I decided to continue to sharpen my skills and know how in the use of CAD/CAM. My inquisitive nature and quest for efficiency motivated me to make the best use of the software. I had no one to turn to except the manual, so I had to learn on my own. However, realising that there were limits to the manual and further exposure to the software capabilities were needed, I approached the vendor to introduce some of their customers to me. I took the time to visit them, and took the opportunity to ask as many questions as I could."
Being young, humble, and coupled with an insatiable appetite to learn proved to be effective. Shirley went beyond learning the software, and familiarized herself with ancillary services such as how one could produce a PCB mask using a photoplotter and fabricate the printed circuit board.
 She became so good at using the CAD/CAM software that the vendor convinced her that she was better off in his camp rather than as his customer.
She elaborates, "Doing everything in the most efficient manner is my mantra. Leveraging available technology is my means of achieving these efficiencies. Through the use of technology, I believe I can reach the sky in the world of IT."
And her work ethics did not go unnoticed. Her bosses recognised what she did and soon enough, she started the CAD/CAM department for PCB design and trained a team of technicians to provide the service to the engineering department.
She became so good at using the CAD/CAM software that the vendor convinced her that she was better off in his camp rather than as his customer. After some thought, she decided to join the software company as an Applications Specialist.
Along the way, she recognised the importance of continual learning. She worked hard to improve her English, and obtained a distance learning diploma in Electrical and Electronics Engineering with the City and Guilds of London Institute.
From engineer to entrepreneur
In 1993, when the USA was going through an economic recession, Asia was booming. Shirley and her co-founders plunged into entrepreneurship and did a management buy-out of the software distribution company business she worked for. This became her first startup.
She identified a new way of selling her products. Since the software ran on computers, the team found an opportunity to make more money by selling the hardware and software bundled together. And in doing so, they provided a better service and complete solution to customers.
The company was renamed Frontline Technologies a year later. Under her stewardship, the company grew from a team of 8 to 5000 staff spread across 11 countries in the Asia-Pacific. It was also listed on the Singapore Exchange in March 2001, with such an impressive growth record that they could IPO in 7 years. The British Telecom Global Services took notice of their impressive performance, and Frontline was subsequently acquired by them and renamed BT Frontline Pte Ltd in 2008. Shirley stayed till 2012 as Managing Director to stabilise the acquisition.
Since then, she's moved from being an entrepreneur to being a supporter of entrepreneurship. Over many wine sessions with entrepreneurs and well-connected industry veterans, they shared their similar goals of wanting to assist local startups to succeed in their ventures.
She explains, "We feel that there is a lot of talent locally, but few have succeeded because they did not have the right connections to help them to go-to-market, nor did they have people whom they can discuss their business challenges with and the guidance in business model development. And operationally, they were not having fun because the challenges of starting up totally overwhelmed them.
It was a timely discussion as NRF had just announced the invitation to participate in Phase 2 of their Technology Incubation Scheme. We thought that it was a good challenge for us to take up, and we formed TNF Ventures to apply for it, where we were selected."
Through TNF, she has worked with a number of startups, helping them secure funding by matching them with investor mentors, gain access to resources, build market connections and aiding them in go-to-market strategies.
Paying it forward and giving back to the community
On the community front, Shirley serves in several infocomm industry board and committees, including being the Chairman of Singapore Infocomm Technology Federation (SiTF), board of Infocomm Development Authority of Singapore, board of Singapore Science Centre, Co-Chair of Cyber Security Awareness Alliance, member of Malaysia Singapore Business Council and Council member of Temasek Polytechnic IT School Advisory Council.
She elaborates on her reasons for picking up these appointments, "I am passionate about talent development and entrepreneurship. I always encourage young people to pick up technical skills, and pursue academic disciplines in Science, Technology, Engineering and Mathematics (STEM). For those who are not sure what you want to do and where you want to go, I would urge you to pursue the field of Information and Communications Technology (ICT), as there is great diversity in this arena."
Through these committees and boards, she is making an impact on the level of the business ecosystem. For example, to cover the talent crunch in the ICT industry, she started an initiative for SiTF to work with the polytechnics to facilitate industry internships for their students and help to enhance the quality of internship programs by providing mentor training.
Another initiative is to proactively woo Proxor to endorse SiTF as a Certified Proxor Examination Centre. Employers will be able to use the examination to validate the proficiency of programmers and will help employers to identify quality developers more efficiently.
Advice to startups and engineers
I asked Shirley for her advice to aspiring entrepreneurs and engineers. She says, "In my career, I had the opportunity to work with many different industry sectors, ranging from healthcare, finance, manufacturing, education, media, the government, you name it. Every one of these engagements gave me an insight into what they do, what causes the senior executives to have sleepless nights, what differentiates them from their competitors and so on.
Only being in the ICT industry can you experience such diversity. In today's global and digital economy, ICT is a driving factor and force in the process of globalization. There is no doubt that ICTs have facilitated efficiency gains in all sectors of the economy. Hence, I believe that possessing IT knowledge opens up a wider range of options for you."
Achievements that break the norms
She also shared with me, "I've never thought that I would be where I am today, an entrepreneur and subsequently an investor. But on hindsight, it was taking advantage of opportunities when they came and seizing them."
She has many titles to her name, but the key takeaway was that an educational qualification did not define her career. Coupled with the adversity in working in a largely male-dominated tech industry, Shirley has defied the odds and shown that tenacity, passion, obsession with efficiency, and persistence are key to success.
I am glad Shirley has kindly agreed to share her story. May it be an inspiration to engineers and entrepreneurs alike to seize opportunities as they come their way. Carpe Diem!
This article is the eighth of the 'Engineering Singapore' Series, where I delve into the state of engineering and its community in Singapore.
This article first appeared on Tech in Asia.