On the last week of January 2016, I had the pleasure of taking a week-long trip to the Bay Area, mostly visiting San Francisco and Silicon Valley. As an active evangelist of the Singapore tech startup ecosystem, I visited the great tech hub to share the great opportunities in ASEAN and how they could launch into the ASEAN markets via Singapore.
In exchange, I have received interesting insights and lessons from VCs, entrepreneurs and team members of big tech groups based in the world's global tech mecca, of which I felt were interesting to pen down in an article. 
Everyone in the team is an evangelist, not just the CEO
I had the opportunity to tour AirBnb and Google through the nice friends who took the time to show me around. What amazed me were how knowledgeable my tour guide friends were in explaining the history of their respective companies, along with details on the branding and culture that they embraced. And these were ordinary team players (not senior management) but they knew why things were created in a certain fashion.
These were ordinary team players but they knew why things were created in a certain fashion.
This was the same said of programming schools that we toured. Both the business development managers and students alike would gladly explain with passion and highlight their achievements and what their school mission is.
In reflection, in all my time visiting various startups in the different ASEAN cities, never did I see one company who could get a non-management team member to clearly articulate the values of the company he worked for. It always seemed more etched in the senior management, but somehow fails to trickle down to its rank-and-file.
Culture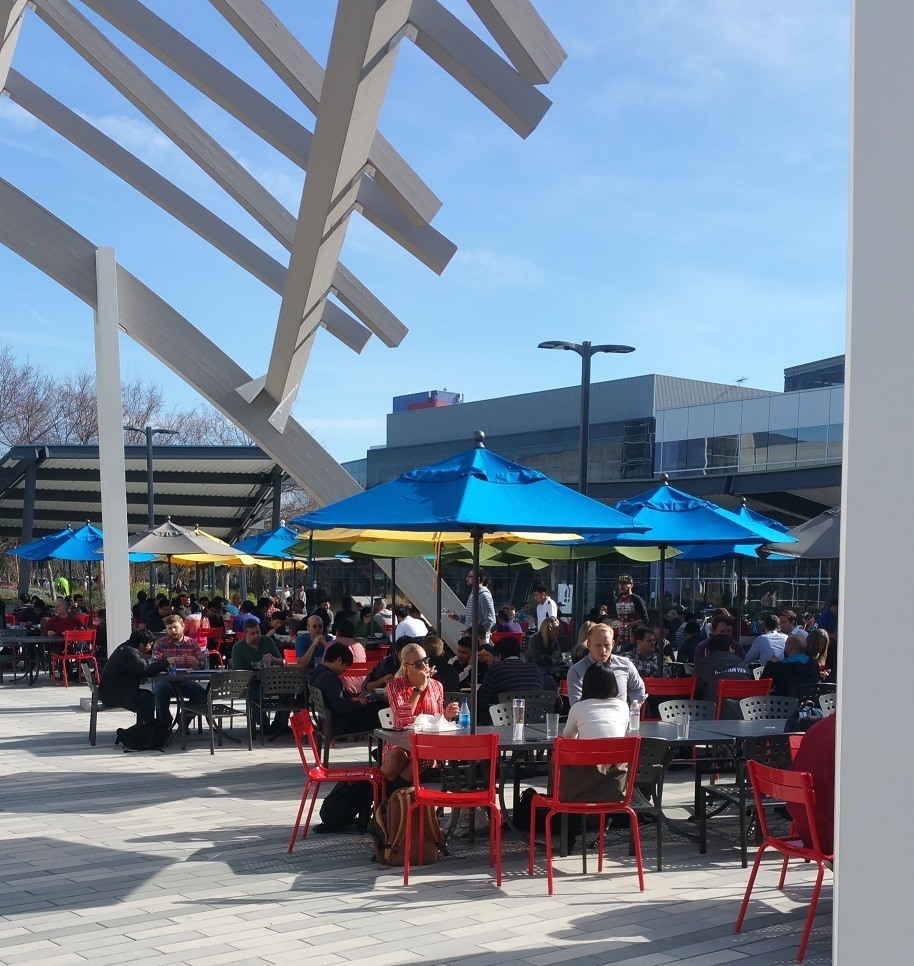 One super incentive that AirBnb staff and Googlers get are hordes of free food. At Google, among the two dozen buildings at Moutain View, everyone is free to pick and choose the variety of free food. Apparently, there is at least one diner joint for every two buildings. If that isn't enough, Googlers are spoilt for choice of the food trucks that come with even more food.
At AirBnb, it was the same except the food joints were more café styled. My friend at AirBnb told me that three meals a day is served to ensure that you do not worry too much about hunger and focus on work.
And another nice perk to the job is that you can bring your dogs to work. And I don't mean small ones, but huge furry ones who jump up and are as tall as a person!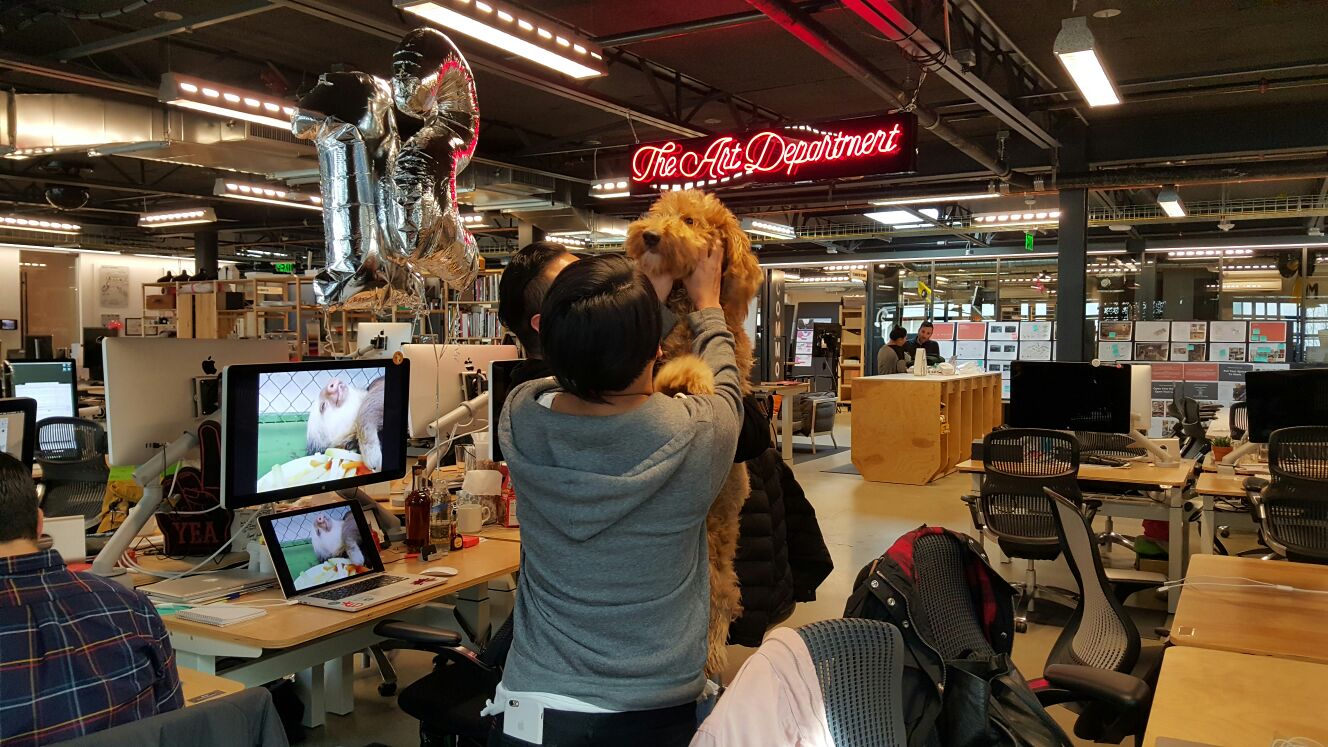 But setting food and dogs aside, Airbnb created a very interesting office space. A large portion of the office was dedicated to co-working and there were many sorts of designs spaces where team members can mingle and get creative in their projects. It is common knowledge now, but for those who are unaware, each meeting room was designed after an AirBnb location.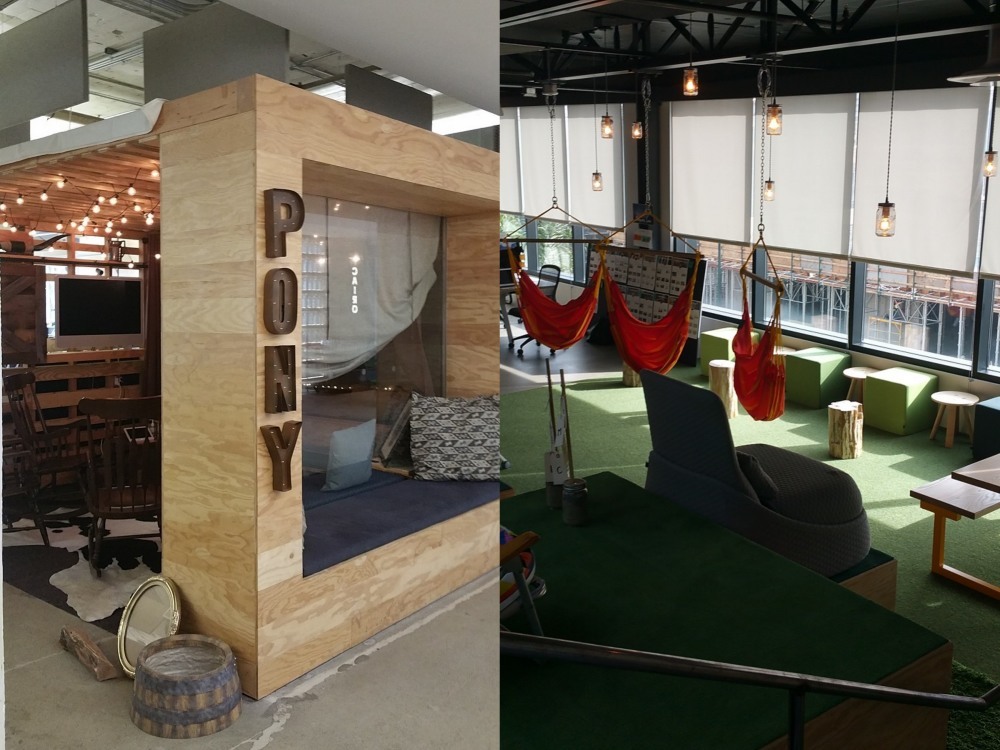 It might be a toughie for startups in Singapore where space is a premium, but I felt the ability to create nice large co-working spaces brings about many interactions, which leads to new ideas and creativity. Singapore startups should consider such spaces.
Over at Google, my friend mentions that on Friday lunches, the senior management will come on stage and give an update to the staff at the main dining area. That is so cool to have direct connection to your top bosses even despite working in such a large organisation.
Conveying methodology and inspiring individuals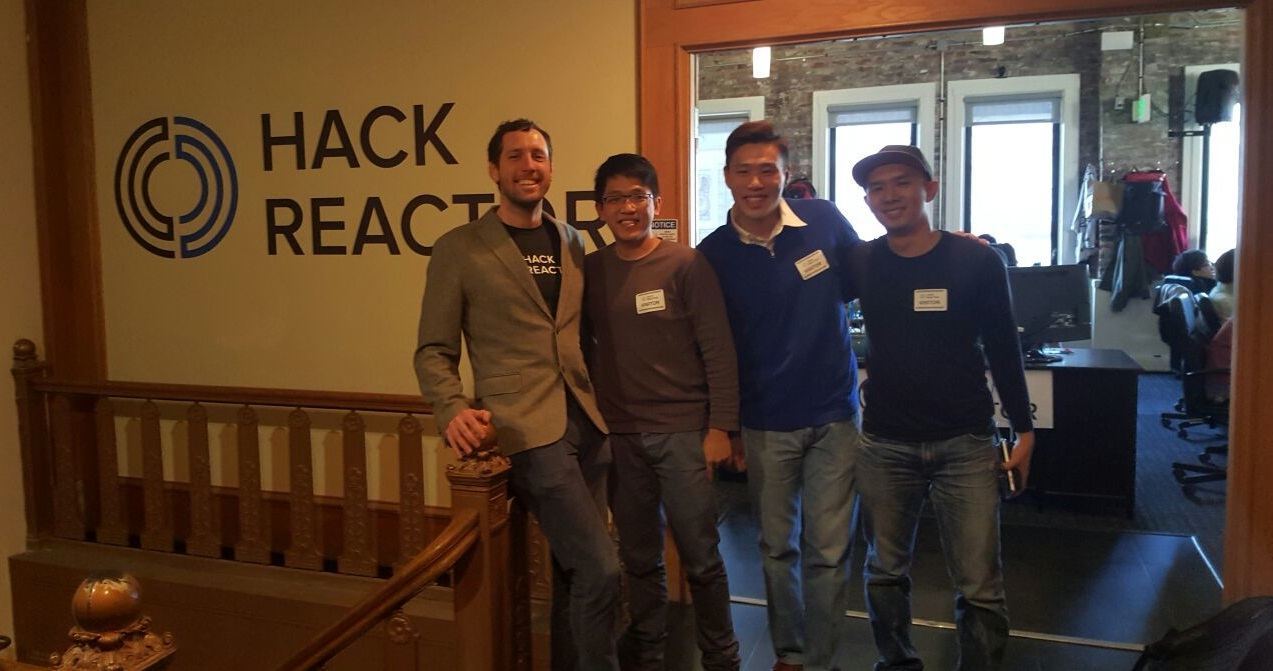 I toured a few programming schools and learnt how they train programmers with such clear methodologies. Or maybe it is just the way Americans explain with clarity. I am so clear on the objectives of each programming school and the vision they have casted that my team and I were even interested to take programming with them!
Founders spend a good amount of time focusing clearly what their goals and objectives are
The programming schools do not just teach, but also inspire and cultivate an atmosphere that is so vibrant. At Hack Reactor, I could see students actively communicating to each other and how the coach is excitedly challenging them to rethink how they can improve their coding further.
This is not the same in Southeast Asia when it comes to selling an idea or product to me. When I get people in Singapore pitching to me, I get confused as to what the goals and objectives are.
In terms of priority, entrepreneurs in Singapore tend to focus more on execution rather than strategy. The reverse is said of the Americans. Apparently, a US friend of mine told me that founders spend a good amount of time focusing clearly what their goals and objectives are and agree to it before planning the product or service they wish to deliver.
If I like to invest in Asia, I would already be in Asia
Over on the investment side, I had a last-minute invite to a VC gathering of drinks. I felt out-of-place among the VCs who were all not too keen to chat with me when I mentioned I am from Singapore. Eventually, one kind soul explained to me why.
They wanted a startup which is physically right there in the US where they can visibly meet and talk to.
Apparently, there are sufficient investment opportunities in the US where there are already many startups lining up to meet them. They wanted a startup which is physically right there in the US where they can visibly meet and talk to. They voiced uncertainty and fear in investing in unknown regulations and markets. While I finally met someone who said he invests in Asia, he did it via a fund-on-fund strategy and leaves it to his VC partners in Asia to do the investments. He does not get involved directly with startups in Asia.
This was confirmed by our own Singaporean folks at Block 71 SF, where they debunked the myths of Singapore startups who come to SF in hope of raising initial angel funding, thinking that VCs will look at them while they operate out of Singapore.
It is only a good thing to raise funding from US VCs if you plan to penetrate the US market and create a legal entity there, but then again, they highlighted that the business model has to be very unique to compete with many other startups for the funding. A suggestion would be to get seed investors in Asia who can bring you to US investors, but that is not successful all the time.
And don't expect a one-hit wonder that you expect VCs writing cheques after the first meeting, as portrayed by the famous TV series "Silicon Valley". At this period, VCs are very cautious and the down-rounds are on the rise. If you are in the US just to raise funds and yet returning to Singapore, you might be in for disappointment.
Scalable business model, not traction
Some Singapore-based entrepreneurs may have been impressed by the idea that traction is the key KPI that US VCs look for and hence it is fine not to be profitable but just keep showing user growth.
They always advise the importance of being profitable or at least a break-even, with the great potential to scale.
That is partially true. Traction is the result of building a scalable and solid business model. When it comes to profitability, VCs do understand that there is a period of time required to provide free services until an inflection point is reached and monetisation is possible.
However, they are still focused on ensuring the startup has the ability to sustain its cashflow via operational revenues and not just investing into a sinking black hole.
So what about WhatsApp, Instagram and Twitter, all these startups which had huge user bases but little revenue to speak of?
VCs highlight the key difference is the team ability and execution and these intangible assets are very hard to access or find. So they always advise the importance of being profitable or at least a break-even, with the great potential to scale. That will be the key interest they look at.
One VC told me not to get to overly caught up with the hubris and excitement of startups in the US getting US$10m just on a pitch. There are a lot of insider and behind-the-scenes action going on which explains these one-off exceptions. And despite what the tech news report, the majority of startups in the US still fight tooth-and-nail and wait in long lines to prove their product works and is worthy to be invested in.
Ending thoughts
While I have enjoyed myself in the Bay area, admittedly, it is not home ground. Despite the more opportunities that startups and VCs have at the Bay, it might just be better to stay right in Singapore where the familiarity and local or regional knowledge will be our key advantage.
Shifting old mindsets as a nation and to a nation that embraces failure, openness, flat hierarchy and creativity.
Heart-ware (culture, passion, mindsets, community) is another key takeaway that I got from this trip which is what Singapore needs. It is the missing piece of the puzzle to building a vibrant ecosystem.
Hardware (infrastructure and supporting policies) has been the key thrust of the government initiatives and will remain to be a policy. But the biggest challenge will be shifting old mindsets as a nation and to a nation that embraces failure, openness, flat hierarchy and creativity.
As many have seen on his Facebook posts of his recent trip to the Bay Area, Prime Minister Lee was having a great time meeting with the various heads of the big tech firms and showing them the exciting plans of Smart Nation and other policies.
It is without a doubt in due time, we are going to see an avalanche of tech giants setting up and arriving into Singapore to dabble together with Singapore on its Smart Nation policies. And setting aside our lack of technical talent for now, are we ready as a nation to build our heart-ware to maximise the investment returns?
This article first appeared on Tech in Asia.